The formation of the Ceramic Collection at Aberystwyth University coincided with the development of the British studio pottery movement between the two World Wars. In the Western canon of art at that time, African ceramics were still largely considered to be ethnographical objects in the context of museum collections.
African sculpture and masks, however, were an important influence on Modernist artists in the early twentieth century. The studio potters – Bernard Leach(1887-1979), Reginald Wells (1877-1951), William Staite-Murray (1881-1962), Charles Vyse (1882-1971) and Nell Vyse (1892-1967) among them – looked instead to Asian cultures for inspiration. They emulated the plain forms, minimal decoration and muted glazes of the pottery produced in China during the Sung and Ming dynasties, as well as in Japan.
Leach's protégé Michael Cardew (1901-1983) deviated from the eastern orientation of studio pottery. He revived British slipware when he set up a pottery at Winchcombe, Gloucestershire, in 1926. When the pottery struggled financially, Cardew took up a position at the Achimota College in West Africa (Gold Coast, now Ghana) in 1942 where African ceramics had a profound effect on his work.
In 1951, Cardew was appointed Pottery Officer for the Department of Commerce and Industry in the colonial Nigerian Government. He established the Pottery Training Centre at Abuja (now Suleja), Nigeria. Pottery in Nigeria was still largely a female occupation and women produced hand-made earthenware, fired in open bonfires. These functional pots were cost-effective to produce and well suited to the needs of water storage and cooking on an open fire. Cardew recognised these qualities and wanted to avoid competition with them.
At Abuja he offered training in wheel throwing and kiln firing to make glazed stoneware to enable young men to develop independent pottery businesses. One of these was George Sempagala who studied and worked with Michael Cardew at Abuja in 1960. He became an accomplished craftsman potter and went on to establish a pottery project at Maugabo in Uganda. Cardew's African influenced studio pottery found a market with Europeans and the rising urban middle-classes in Nigeria. African ceramics continued to influence Cardew after he left Nigeria and returned to his pottery at Wenford Bridge in Cornwall in 1965.
Cardew did employ some women, the first of whom, Ladi Kwali  (1925-1984), became his most famous pupil. She was already an established maker when Cardew invited her to join the Pottery Training Centre at Abuja in 1954. In the late 1950s and early 1960s, her work was exhibited to much acclaim at the Berkeley Galleries in London and in Paris. She was awarded an MBE in 1963 and toured with Cardew in America and Canada in the early 1970s. She was awarded the Nigerian National Order of Merit Award (NNOM) in 1980 and was the first women to appear on a Nigerian banknote.
Ladi Kwali, Nigerian Potter (Pitt Rivers Museum : Accession Number: 2014.8.1)
In 2014, a large donation of ceramics from the collection of Ann Carr, a lifetime friend of Cardew, was given to Aberystwyth University. The donation consisted of over 300 works, mainly by Cardew, but also included works by Ladi Kwali and Danlami Aliyu(1952-2012), another Nigerian potter who worked at Abuja. Aliyu went to work at the pottery centre at the age of 14, and was trained by Michael OBrien.  In the mid-1970s he travelled to England for further study, first at the Wenford Bridge Pottery with Michael Cardew and later at the Farnham School of Art. He returned to Nigeria eventually setting up a pottery with his brother at Maraba and a second workshop at Minna.
Kenyan-born Magdalene Odundo (b. 1950) is one of the most eminent ceramicists in Britain. Educated in the British colonial system, Odundo was taught to regard African art as 'primitive.' In 1971, she moved to England and studied at Surrey College of Art and Design and the Royal College. While an undergraduate she visited Cardew at Wenford Bridge and he encouraged her to study African pottery making techniques at Abuja. There, she was taught hand building in the Gwari tradition by Nigerian potters including Kwali. Odundo describes her two-month residency at Abuja as 'transformational'.
She co-curated an exhibition of Kwali's work at the Crafts Study Centre at Farnham in 2015. Odundo was awarded an OBE in 2008 and a DBE in 2020. In 2019 she was awarded a Life Time Achievement Award at the International Ceramics Festival in Aberystwyth. Along with Kwali's stoneware water pot, Odundo's Tall Burnished Vessel is the most expensive purchase in Aberystwyth University's Ceramics Collection.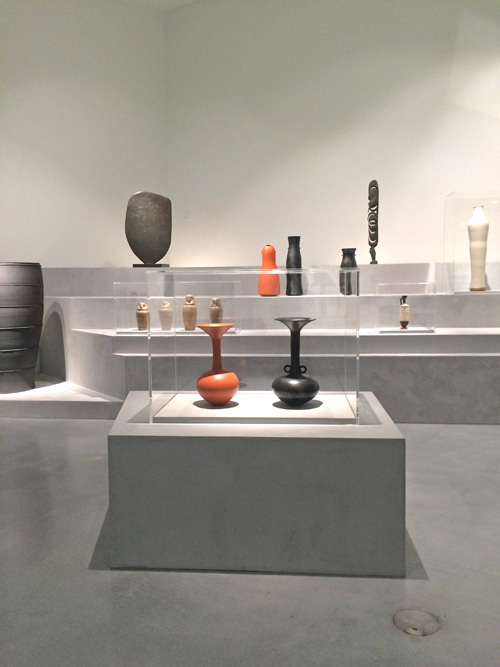 Throughout the 1920s and 1930s, Aberystwyth University had focused on collecting British studio pottery. Collecting was interrupted by the second World War and did not resume until the 1970s. In 1971, Moira Vincentelli was appointed to teach Art History, and she took on the role of Curator of Ceramics. Vincentelli was particularly interested in ceramics made by women including those working in non-Western societies. She explored some of their traditions in her book Women Potters: Transforming Traditions (A&C Black, 2003). Her exhibition Sankofa, Ceramic Tales from Africa, a collaboration with Manchester Museum, was based mainly on field trips to Tunisia, Morocco, Ghana and South Africa in 2005-6.
The first work by a Black African potter – Siddig El Nigoumi (1931-1996), came into the collection in 1985. It was purchased from Ceramic Series, a programme run by Aberystwyth Arts Centre featuring small displays by contemporary makers working in the UK and in Wales in particular. Born in Sudan, Nigoumi moved to England in 1967. His work draws on British and African imagery and techniques. Ceramic Series, which ran from the mid-1980s until 2003, included over 100 makers. Nigoumi was the only Black maker to feature in the series. He was also a demonstrator at the first International Ceramics Festival in 1987.
Opportunities to collect work by Black ceramicists increased with the establishment of the biennial International Ceramics Festival (ICF). The ICF is organised by North and South Wales Potters and Aberystwyth Arts Centre and began in the late 1980s. The Festival invites potters from around the world to demonstrate their techniques at a two-day event held at Aberystwyth. In 1989 Assibi Iddo, who worked at the renamed Dr Ladi Kwali Pottery Centre at Abuja, and Asabe Magaji from Nigeria, demonstrated traditional hand-building techniques and bonfire firing. In 2000 there were two South African demonstrators, Jabu Nala demonstrating contemporary black burnished Zulu wares and Wonderboy Nxumalo from Ardmore Studio showing his exuberant decorating techniques. Veronique Bambigbola (b.1950) and Angeline Hountchonou (b. 1957) from Benin, West Africa demonstrated traditional hand-building and bonfire firing in 2005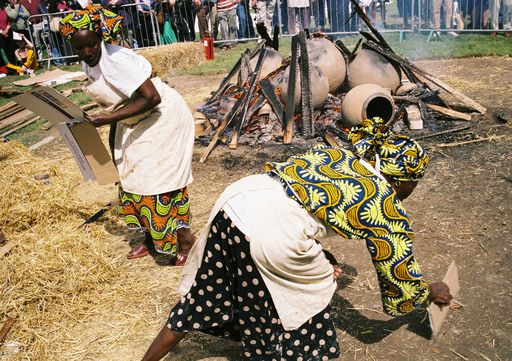 The practice of making ceramics was only briefly taught at the School of Art at Aberystwyth University. However, students studied ceramic history and worked with the collection. Helga Gamboa (b. 1965) moved to England from Angola in the 1990s. While studying ceramics at the University of the West of England she realised how little she knew of her own culture. Later as a postgraduate in Aberystwyth she undertook field studies to the Kwanyama and Nhaneca-Humbe regions of Angola.
Gamboa's coiled and burnished vessels with their tin glazed printed decoration reference Angola's past as a Portuguese colony and the continued impact of that legacy in particular the civil war in Angola. They inscribe her personal story and cultural identity.
It is the policy and aim of the School of Art Museum and Galleries at Aberystwyth University to continue building a collection of contemporary handmade ceramics of international scope and significance. Ceramics like these not only diversify our collection, they broaden our understanding both of world cultures and British history. More remains to be done to increase opportunities for black ceramicists to make and exhibit works that are more fully representative of creative practices – and life – in Britain today.


Work from the Ceramic Collection featured in this exhibition