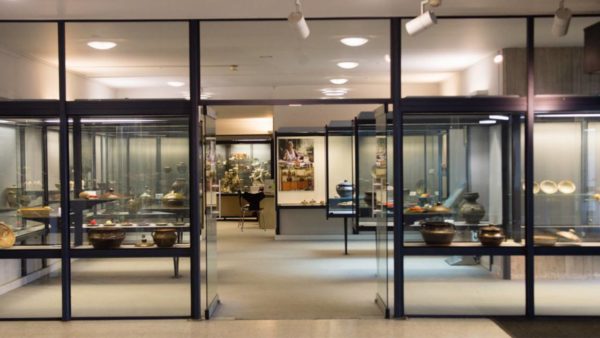 The Ceramics Gallery is downstairs at Aberystwyth Arts Centre. We have changing exhibitions usually four times a year in the front gallery. These  include themed exhibitions from our collection as well as curated exhibitions on loan, exhibitions by solo artists, ceramic groups and organisations. The back gallery has a long term display of early pioneer studio pottery by Bernard Leach, Shoji Hamada, Reginald Wells, Martin Brothers, Nora Braden, Katharine Pleydell-Bouverie, Frances Richards, Michael Cardew and more. Items are on display in glass cabinets. There are information boards and also an audio visual display.
Opening Hours:
Monday – Wednesday: 10am – 5pm
Thursday – Saturday: 10am – 8pm
Sunday: 1pm – 5pm
Occasionally the gallery is closed while exhibitions are changed or maintenance work is carried out, please check before you visit.
See exhibition information here >>