Conscious Dreaming
An exhibition inspired by the works of Christine Penn and Frances Emma Richards.
Sat 24 June 2023 to Sun 24 September 2023
'Conscious dreaming has parallels to our creative process, when we are working it is somewhere between control and letting go.'
 – Vicky Lindo and Bill Brookes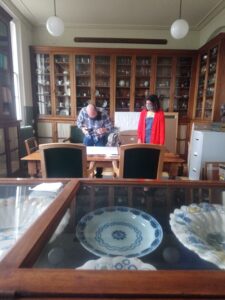 In 2020 Vicky Lindo (b.1980) and Bill Brookes (b.1980) were invited by the School of Art to make new work inspired by the University's collections of prints and ceramics as part of an Arts Council of Wales funded project. In the previous year their series The Dead Dad Book had won the AWARD prize at the British Ceramics Biennial and was purchased by the V&A Museum.
Vicky trained in illustrated textile design but was inspired to make ceramics when she encountered North Devon slipware pottery in the Burton Museum in Bideford, where she worked as a museum assistant. In 2012 she began to make small pots assisted by her partner Bill who was then a woodworker. Within four years they h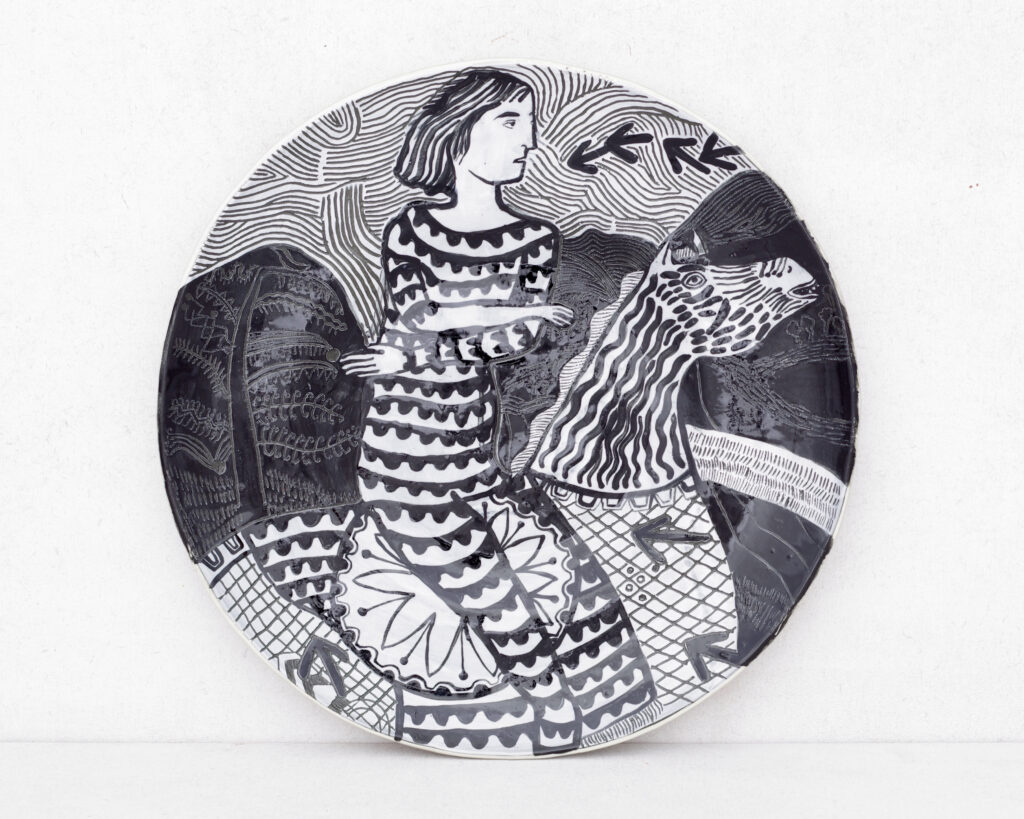 ad established a full-time practice in Devon, creating larger scale slip-cast ceramics combining text and imagery inspired by mythology, folklore and the natural world. Vicky frequently uses sgraffito – scratching designs through a layer of slip to reveal a contrasting colour underneath.
After the invitation to work with the School of Art collections Vicky and Bill visited Aberystwyth during the Covid 19 pandemic in 2021 and again in 2022. They were drawn to the relatively unknown work of the early pioneer studio potter Frances Emma Richards (1869-1931) and the printmaker Christine Penn (1943-2014). Vicky writes:
'Penn's dreamlike prints are full of surreal narrative, something we were drawn to immediately, her style coming directly from her hand. While Richards' ceramics are somewhat opposite, calming meditations, juxtaposed to the wild energy of Penn. Her restrained and considered colours and patterns are subtly applied to minimal yet complex pots.'
Vicky and Bill were keen to share their working methods and have included their sketches, maquettes, moulds, paintings to reveal the process of making. They have selected the original prints by Christine Penn and ceramics by Frances Richards that are included in this exhibition.
Conscious Dreaming exhibition leaflet
Work from the Ceramic Collection featured in this exhibition