Three Welsh ceramicists inspired by the forces of nature.
Beverley Bell Hughes
Carine Van Gestel
Kim Colebrook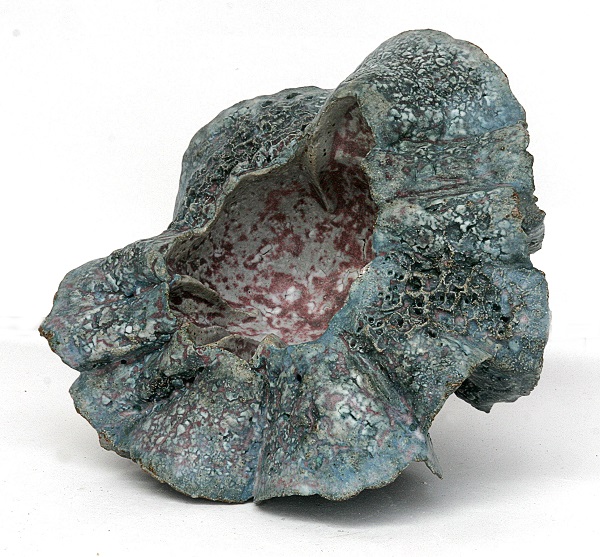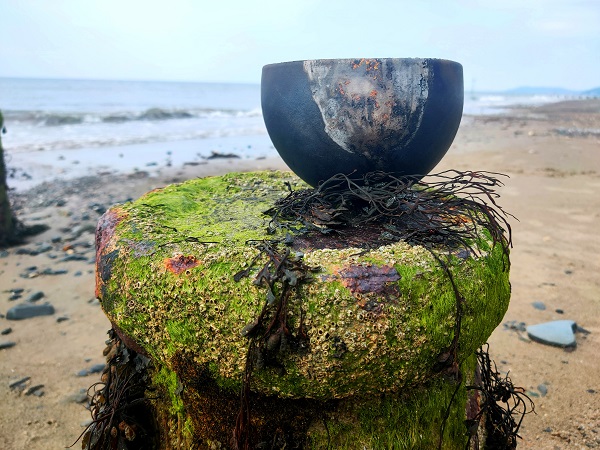 14th January – 26th March 2023.
As a young girl, Beverley Bell Hughes enjoyed making pinch pots, but this was discouraged during her training at Harrow in the 1960s: she was expected to make thrown, functional ware in the tradition of Bernard Leach and his followers. She eventually returned to hand-building pots and developed her own techniques of pinching and coiling clay to make sculptural vessels. These are inspired by the natural forms and tidal markings that she observes during her walks at Deganwy and the Morfa beach, near the Conwy river estuary in North Wales. She is a Fellow of the Crafts Potters Association and won the Gold Medal for Craft and Design at the National Eisteddfod for Wales in 2019.
Carine Van Gestel also favours the pinch pot technique to create semi-spherical bowls which she then wood-fires. Born in Belgium, she now lives and works in Machynlleth, often digging local clay near Borth beach and Clarach Bay for her work. She is interested in the geological markings of time in local rock strata and formations. Recently she has developed slab-built work in response to the marks imprinted on the landscape by our prehistoric ancestors, incorporating cup and ring rock carvings, lines, dots and circles into her work. She studied ceramics at the Royal Forest of Dean College in the late 1990s and was mentored by Jeremy Steward at Wobage Farm, Ross-on-Wye, in glazing and wood firing.
Kim Colebrook left her career in tourism to study ceramics, receiving an MA from Cardiff School of Art and Design in 2018. Her work is based around coal ('Black Gold') as a commodity and its significance in the economic and social history of South Wales. She compares this to the value of porcelain ('White Gold') in the 1660s when it was exported to Europe from China. She works in porcelain, creating layers of iron oxides in a Japanese method of working called Nerikomi – stacking and cutting coloured pieces of clay to create patterns. This serves as a metaphor for the ways in which history and memories are buried and distorted through time and distance. She won the 2019 Potclays New and Emerging Maker's Award at the International Ceramics Festival, Aberystwyth.