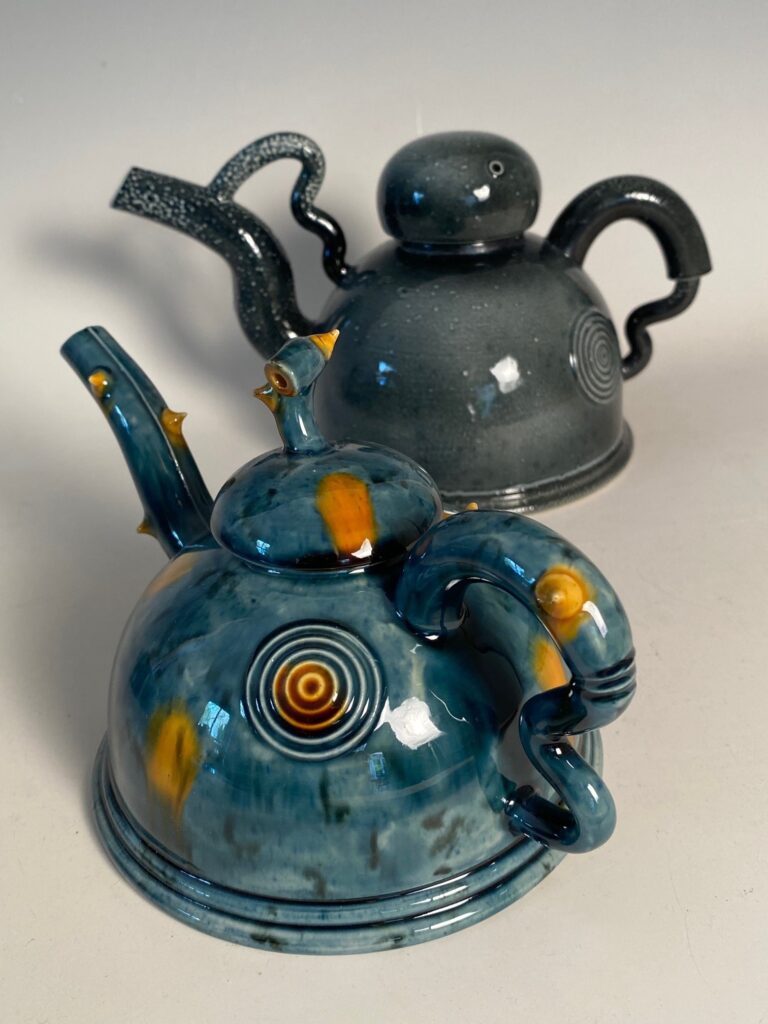 Walter Keeler is an internationally renowned potter who creates useful pieces that explores the sculptural potential of functional design. His fascination with pots stems from his childhood, mud larking along the tidal banks of the Thames. The ceramic fragments he found kindled a passion for old pots, and, subliminally, a tactical key to the methods of those long dead potters. This sense of tradition is at the heart of Walter's work.
"The foreshore of the Thames was littered with salt glazed fragments, from red slipped strongly orange-peeled, to grey and blue sprigged Westerwald ware. There were also pieces of Staffordshire white salt glaze and Whieldon creamware from the mid 18th century, they all revealed that making informs the clay."
Whether throwing while plastic or lathe turning when leather hard, the clay's response to hand and tool offers countless possibilities for the maker's imagination. The understanding of how the surface of fired pots can reflect and amplify the clay's nature, and his creative intentions, is integral to Walter's work. From his first obsession with the reactive magic of firing salt glaze; to the freshness and refinement of white earthenware, Walter delights in the mystery, drama and context of these processes; the practical clarity of brown salt glaze reflected in his salt ware; the quirky eccentricities of 18th century Staffordshire creamware, provoking a more playful, wayward path in his earthenware.
"I make undemanding useful things like mugs and jugs which bring pleasure and amusement to daily life. Some pots are composed, like sculpture, playing with components, material, and process, which results in surprising pieces which challenge their user to make them work. I hope my pottery brings humour and sensual pleasure despite its sometimes austere appearance."
Llantarnam Grange has worked with Walter for over 30 years, showing his work in group exhibitions, craft showcases and national exhibition events, such as Ceramic Celebration – South Wales Potters, 2014; and Craft Festival Cheltenham. He has been a supportive friend to the Grange and it is a joy to celebrate his work in this solo exhibition.
This exhibition is on loan from Llantarnam Grange and features new work from Walter Keeler which is for sale, as well as pieces from the University's Ceramics Collection.
07/10/2023 – 31/12/2023
The Ceramics  Gallery at Aberystwyth Arts Centre is open:
Monday – Wednesday: 10am – 5pm
Thursday – Saturday: 10am – 8pm
Sunday: 1pm – 5pm
Ceramic Gallery
Aberystwyth Arts Centre
Aberystwyth University
Aberystwyth
Ceredigion
SY23 3DE
Work from the Ceramic Collection featured in this exhibition