Chwarae Teg/Fair Play
100 Years of Women in Ceramics
An exhibition celebrating the past 100 years of women making and designing ceramics in Britain, featuring work from Aberystwyth University's Ceramic Collection.
October 20th 2018 – 13th January 2019
Early Studio Pottery
This exhibition marks a century of collecting ceramics at Aberystywyth, a moment that also coincides with the birth of studio pottery as it developed in Britain. The pioneers of studio pottery were middle-class art school trained artists who began to make and decorate pottery undertaking the whole process for themselves. Previously pottery production, especially throwing and firing, had been a working-class male activity.  Only ceramic decoration was deemed to be appropriate for ladies. Thus, for women, studio pottery broke both class and gender stereotypes. Denise Wren recalled her battle to find a potter who would teach her to throw on the wheel and Frances Richards bravely built a kiln in her garden in Highgate in London.
Early studio potters were influenced by a new taste for Chinese ceramics – not the well-known blue and white but the subtle brown and pale green glazes of the Sung period (960-1279).  Bernard Leach set up a pottery at St Ives in 1920 and was a major figure in the development of the anglo-oriental tendencies in studio pottery. Katharine Pleydell-Bouverie and Norah Braden both spent time at St Ives and then went on to work in close companionship on the former's family estate. They experimented with ash glazes and a temperamental wood-fired kiln which had to be fed with fuel through the night to reach the required temperature. Their work has the subtle qualities of the Chinese wares but is altogether more modern. Similar modernist qualities can also be seen in the ceramics of Deborah Harding whose work might be seen as a precursor of Lucie Rie. Nell Vyse studied scholarly texts in the Reading Room of the British Museum and worked with her husband Charles to recreate the forms and glazes of early Chinese wares.
In the interwar years many women potters also produced ceramic sculpture for domestic interiors. Stella Crofts developed a notable reputation for animal groups. Phoebe Stabler created prototypes in her kiln but sold the designs to a number of factories.  Louise Powell was a calligrapher and designer who worked in collaboration with her husband, Alfred.  During the 1920s they developed designs for Wedgwood but also decorated individual pieces.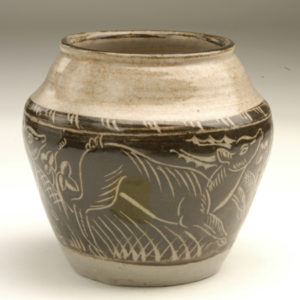 Questioning the Leach Tradition
In the post-war period the production of studio pottery in Britain expanded. Pottery was being taught much more widely in art colleges and in schools and the new prosperity created a taste for modern design and distinctive household decoration. Women were gaining access to higher education and it was easier to train in ceramics. The huge impact of Bernard Leach and his ideas and philosophies was widely promoted through A Potter's Book, first published in 1940 and running to many editions. Leach's third wife Janet settled in Britain after 1955 and made her mark in this area. However the most noted female potter was Lucie Rie who came to Britain as a refugee from Austria in 1938.  Her cool modernist work emphasising organic form and texture presented an alternative way forward. Aspects of this approach are reflected in work from the 1970s when a number of British ceramic artists, predominantly women, developed porcelain to create delicate small-scale sculptural forms. See Marianne De Trey.
Return of Decoration
The anglo-oriental or Leach tradition generally espoused muted colours and broad brush work decoration subservient to the form.  By the 1980s women, long associated with ceramic decoration, pioneered a return to more adventurous and colourful decorative surfaces.  See Janice Tchalenko, Charlotte Mellis, Sophie McCarthy, Philomena Pretsell, Fiona Salazar, Morgen Hall, Mary Rose Young.
Women at the Royal College of Art
In the 1970s the cult of virtuoso throwing and kiln technology which dominated the studio pottery movement came into question. A new generation preferred art ideas rather than craft ideals. In this decade the Royal College of Art produced a number of women ceramicists who were also promoted by the newly founded Crafts Council.
Glenys Barton worked in slip-cast porcelain with printed imagery; Jacqueline Poncelet in porcelain and later in sculptural form; Elizabeth Fritsch created  handbuilt grouped arrangements with strange un-ceramic colours and illusionistic decoration; Alison Britton is noted for postmodern vessel forms with bold painterly surfaces; and Carol McNicoll used slipcasting to suggest playfully woven textile.
Reclaiming Traditional Women's Techniques
Already in the 1960s Ruth Duckworth was one of the first potters who chose to work in handbuilding so much associated with women's pottery production in Africa, Asia and the Americas. After the 1980s women were the main protagonists of a notable revival of coiled and handbuilt pottery often incorporating highly polished or burnished surfaces. See Mollie Winterburn, Betty Blandino, Ruth Duckworth, Beverley Bell  Hughes.
Firing Issues
In studio pottery many potters became interested in wood firing usually in large kilns. It involved long hours of hard labour but offered wonderful chance surface effects on the pots.  Wood firing has long been associated with men but a number of women have been excited by the process, notably Pleydell-Bouverie and Braden in the interwar years but many more after the 1970s. Another form of experimental firing that attracted women has been raku and smoke firing. See Gillian Lowndes, Meri Wells.
Figurative Tendencies
In general the figurine was a much despised form within the studio pottery movement because of its associations with over-refined and aristocratic taste or mass production. During the 1920s there was a brief moment when figurative ceramics were popular but it was not until the mid-1980s that there was a significant return to figuration. Women have been particularly successful in this genre especially with animal forms. See Sandy Brown, Gillian Still, Claire Curneen, Katie Scarlett Howard, Christie Brown, Catrin Howell, Anna Noel, Trupti Patel
Having a Say
The influence of feminism after the 1970s was present in a number of approaches in ceramics and some ceramic artists chose subject matter that is more specifically issue-based, provocative or ironic.  See Jo Taylor, Vicky Shaw, Carole Windham, Ingrid Murphy
Ceramics Now
In the 21st century the field of ceramics has opened out in new ways in sculpture, installation and in combination with new digital technologies. Women artists have enthusiastically embraced these new developments and are leading figures in the arena.
Work from the Ceramic Collection featured in this exhibition