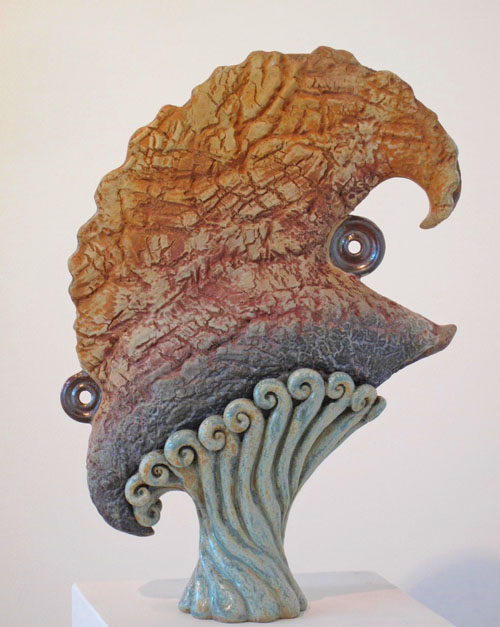 "I prefer to stay within the realms of the vessel. Rims, handles, lips and balance are commonplace within traditional ceramics, yet I use them in a unique integrated structure which elevates them beyond their own identifiable function and so gives then another meaning. Their conclusive forms are recognised as jugs, bowls and vessels; however, these represent profound arguments concerning issues of an individual's perception and memory of an ever-changing landscape."
Billy Adams was born in Derry, Northern Ireland and grew up near the border during the Troubles of the 1970s and '80s. To escape the political conflict, he often spent time roaming the hills of Donegal and exploring the landscape. He studied a Master's degree in Ceramics at Cardiff Institute of Higher Education in the late 1980s and he has been living and working in Wales ever since. His initial thrown forms were based on ancient Celtic monuments such as standing stones. Later, he began to reflect more on their landscape settings, especially the wild rugged beauty of Connemara and Donegal, and the dramatic West Wales coastline. He incorporates geological elements, natural colours, as well as the marks of human activity on the landscape in to his vessels. The resulting monumental jugs, vases and bowls with fractured surface textures are also a provocation to the onlooker to question the value of a vessel as a piece of sculpture. Billy Adams is a Fellow of the CPA, Craft Potters Association of the UK.
"My vessels incorporate three different types of clay. During the making process, my clay varies in shrinkage; the outer layer shrinks by 14% and the inner layer by 4%. This is highlighted by my glazing technique.
Each piece of work is fired between four and five times. After the standard biscuit firing, I apply a 1280? glaze and follow it up with a 1100 degree firing, and then a 1040 degree glaze firing, eventually ending with a 795 degree lustre firing.
After the glazes are sprayed on, they are directionally rubbed off, only to be applied again. This builds up a rich vocabulary of tones and colours, highlighting the unique surface which is characteristic of my work."
Billy Adams will give a demonstration on Thursday 08th  February 2-3.45pm. Meet in the Ceramics Studio, Aberystwyth Arts Centre. This will be followed by the exhibition opening and talk in the Ceramics Gallery at 4pm.
FREE
Until 22nd April 2018 (closed 30/03-02/04)
To see work by Billy Adams in the collection please click here: Billy Adams