CREATIVE  FAMILY FUN 2019
The Ceramic Gallery run arts and craft sessions for families, based on themes and exhibitions within the impressive Ceramic Collection of the School of Art, Aberystwyth University). Activities take place in the Ceramic Gallery downstairs in the Arts Centre usually on the last Saturday of the month from September until March.
No booking required, drop in between 10am and 1pm. There is a voluntary small charge for materials (£1 per child, adults free) and events last 30-45 minutes and are suitable for families and children aged 3 and over. Babies are welcome in the gallery.
Sat 26th  January-Paper Winter Lanterns
Sat 23rd  February – Shadow Puppets
Sat 30th  March- Mosaics
For further information, please contact:
Louise Chennell, loc@aber.ac.uk, Tel: 01970 622192
This project has been very successful in the past five years and was initially funded by an Inspiring Learning Grant from CyMAL. Family Learning has been very rewarding, not only has it helped us to develop a more holistic education programme, but it has formed a closer bond between us and the local community that is beneficial in many ways to us both. We will also consider taking the programme outside the gallery environment to groups that cannot come to the gallery for any reason.
Based on our experience, we have produced a Family Learning Toolkit for Smaller Venues, which is available to download as an interactive PDF, just click below. Recently there have been major changes in primary school education in England and Wales, with the introduction of the Foundation Phase for children aged between 3 and 7 years with an emphasis on learning through doing. Therefore, we have adapted this toolkit for schoolchildren in the Foundation Phase to compliment the Family Learning toolkit (sample page below).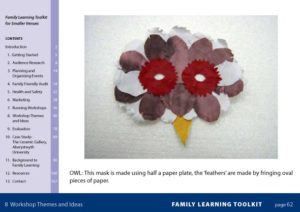 PDF Download: Family Learning Toolkit
PDF Download: Foundation Phase Toolikt
For more information please contact Louise Chennell: loc@aber.ac.uk
Tel: 01970 622192